A roundup of the latest news from Recorder Music Mail ...
[LINK]
YORKSHIRE FLOODS
Scout Bottom Farm sits high above flooded Mytholmroyd and remains dry but please forgive slight delays in processing orders owing to the disruption all around..
GREEN MAN PRESS
On Cedric Lee's retirement from publishing, Peacock Press have taken over Green Man Press. Cedric is to continue as the Editor in Chief for the series and should be contacted on editorial matters. Otherwise all enquiries and requests should be directed to Peacock Press.
PROVINCETOWN BOOKSHOP EDITIONS
Peacock Press have purchased all publishing rights to Provincetown Bookshop Editions. Ruth is particularly pleased as she has very happy memories of music visits, over many years, to Dr Joel Newman in Provincetown on Cape Cod.
Click here
[LINK]
for a full list in pdf.
ORIEL LIBRARY
Peacock Press have acquired the music and assets of Oriel Library.


We are honoured to have the opportunity to continue the work of Theo, Cathy and Ian

The Recorder Magazine
The Autumn 2018 edition of The Recorder Magazine is now out. Click here
[LINK]
for cover and details.
Alex Ayre music
Over 100 of the pieces published by Alex Ayre have been typeset and are available under the code CRCS. They are sold as score and parts; extra parts are availale on request. They are now listed on this website. The original pieces still available under the code ALEX are also now listed
Jacks Pipes and Hammers
Click here for Jacks Pipes and Hammers for early music enthusiasts
, including facsimile scores. Suppliers of sheet music for Early Musicians. Catalogues for flute, Grancino Editions, Green Man Press, Keyboard, Trio Sonata, viol and larger chamber music ensembles.
New CD For Sale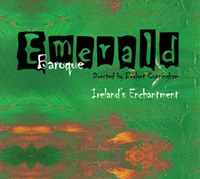 Emerald Baroque plays Ireland's Enchantment
Director and harpsichord - Bridget Cunningham, Recorders - Laura Justice, Soprano - Breda Mckinney, Violin - Farran Scott, Baroque 'Cello/Viola da Gamba - Jennifer Bullock
Music by Turlough O'Carolan, Cornelius Lyons and early Irish songs.
Performed on period instruments, all musicians are leading exponents of early music and Irish music. The Director and harpsichordist, Bridget Cunningham, was awarded a scholarship from the Finzi Trust to research early Irish music and Handel's visit to Dublin in 1741, which became the inspiration for the album.
To hear tracks from the disc and to buy go to
www.bridgetcunningham.org.uk/emerald.php
The Clark Collection
The Clark Collection is now being printed and distributed by Recorder MusicMail.
Glen Shannon's Original Recorder Music
We are now distributing Glen Shannon's prize-winning original recorder music.
Prices
The prices of music from continental sources have increased substantially. Music we already have in stock will be sold at the old price, but the price increases will feed through as we restock. Pieces from Australia are also going up in price as is music from the USA with heavy shipping costs.
Recorder Internet Radio Station!
www.recorder-radio.com
is a German language online radio station constantly playing a wide range of recorder music.